Big Sky Living is proud to sponsor the Broadland and South Norfolk Business Awards in the Business Growth category
Winner: SNAP
Business Growth Award
Sponsored by Big Sky Living
The award went to SNAP, who demonstrated a strong performance in every area of growth – turnover, profit, customer base, market share, territory and new products.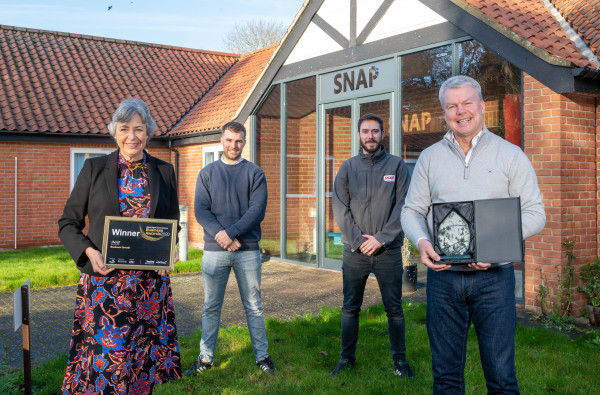 Business Growth Award, sponsored by Big Sky Living. Winner: SNAP
Judges were impressed with:
the innovation and ambition of the team
the clear plans for further investment in both product and people
"Having established a presence in the haulage industry, we have focused on growing our offering and helping customers in both the UK and Europe. As a proud local business, we are very happy to have been awarded the Business Growth Award for the Broadland and South Norfolk Business Awards 2020."
Mark Garner, MD – SNAP
Highly Commended: Proeon Systems Ltd
Business Growth Award
Sponsored by Big Sky Living
Proeon Systems Ltd were highly commended - an excellent performance growing into new sectors and building a wide ranging client base has resulted in a significant upturn in turnover and an expanded workforce for Proeon Systems.
Judges were impressed with:
a newly strengthened management team
an increase in floor capacity and the manufacturing facility
"Proeon is delighted to have received this award as recognition of the hard work and dedication that the team here have given in what has so far been a challenging year. Focusing on our clients and projects we have maintained our plan for the business and we are so far succeeding in moving the company onto the next chapter where we will continue to develop our team and broaden our skills here in South Norfolk."
Richard Miller, Managing Director – Proeon Systems Ltd