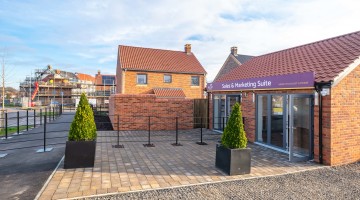 *** PRESS RELEASE ***
New Norfolk property developer unveils new brand identity to coincide with opening of show home at new 350 home development in Cringleford Blog Post
The Norfolk property development company behind the new 350 homes at St Giles Park, Cringleford is celebrating the opening of its sales and marketing suite with the unveiling of a new brand name – Big Sky Living - and a new-look identity.
Big Sky Living is the new trading name of Big Sky Developments Ltd, a company wholly owned by South Norfolk Council which operates independently as a commercial property developer to generate valuable revenues for the council.
To date its focus has been on building smaller developments in South Norfolk namely at Long Stratton and Poringland but St Giles Park, Cringleford, marks a step change in the company's ambitions.
Spencer Burrell, Development Director, Big Sky Living, said, "Having successfully delivered two developments that have generated good commercial revenues for the council, we are now confident that we can generate even more by building larger developments. St Giles Park is going to be one of Norfolk's most prestigious builds and should announce Big Sky Living onto the larger property development stage."
"We're different from other property developers because of our relationship with the communities of South Norfolk. We build for the needs of the locations and the communities we create, making sure we are sensitive to the existing infrastructure, environment and communities our sites are close to. Our focus is on developing sites that offer higher quality, attractive homes at competitive mid-market prices and creating vibrant communities for people to live in."
John Fuller, Leader of South Norfolk Council, said, "Opening St Giles Park is a significant step not only for Big Sky Living but for South Norfolk. It shows that, despite the restrictions we have had to deal with around COVID-19, we have still managed to open the development on schedule. The pace at which the team progressed the site to this stage is remarkable considering the land was only purchased in May 2018. I am delighted to be here today to officially open the sales and marketing suite and to congratulate Big Sky Living on already having built some fantastic new homes for sale. It's a flagship development for South Norfolk that will provide a superb setting for family living."
Trevor Holden, the Managing Director of Big Sky Living , said, "Working with OneonOne Communications, we conducted a thorough review of the competitive environment, in which Big Sky Living is operating, before developing an identity designed to stand out and clearly represent our values, which include creating truly aspirational places to live and work, uniquely anchored in our strong Norfolk heritage and authenticity.
"The kite is a strong and distinct icon which helps to emphasise the 'big sky', freedom and enjoyment of the outdoors that you get both in Norfolk and from a Big Sky Living home. Big Sky Living's ethos is rooted in Norfolk and the quality and craftsmanship that it represents – if you like that's our kitemark and quality guarantee.
"And because Big Sky Living's homes offer purchasers a desirable lifestyle rather than just a property to live in, we came up with the strapline that we think encapsulates that feeling – 'It's more than just a home'."
Following an early release of a few properties the development has experienced massive interest and positive feedback. We are really proud to present St Giles Park to the market and are excited to see people make this their home. For more information visit St Giles Park or contact our agents – Stratfords on 01603 977729