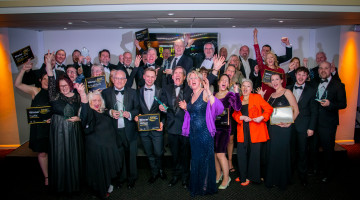 Broadland District and South Norfolk Councils announced the winners of this years' Business Awards at a glittering event at Norwich City football ground, sponsored by Big Sky Living.
Despite another tough year for businesses, the innovation, resilience, and excellence of local businesses shone through and all the shortlisted businesses deserve a huge amount of praise.
Broadland District Council Leader, Councillor Shaun Vincent said: "These awards are an excellent opportunity to celebrate the hard work and commitment of our local businesses who have definitely bounced back after the recent challenges. This is a huge achievement and it is exciting to see how much their success is driving our vibrant local economy.
I am delighted that we received so many excellent applications and I would like to congratulate our very worthy winners."
South Norfolk Council Cabinet member Lisa Neal said: "It's wonderful to see so many local businesses thriving in our districts and I know that the judges had a really hard job getting the shortlists down to just three per category.
"Obviously there can only be one winner, but everyone at the event should be proud of what they have achieved. It's their hard work that goes into making South Norfolk such a special place."
Female empowerment and networking business ProspHER took home the Business Collaboration award, sponsored by Pasta Foods, for their successful work uniting business leaders, charity partners, sponsors and service providers to inspire women across the districts and beyond. Langley School and Nelsonspirit were also Highly Commended in this category for creating a unique opportunity to grow and support young people through the Nelson Scholarship.
The Business Growth accolade, sponsored by Hethel Innovation, went to Delta Fire who have reinvested their increasing turnover into innovative technologies resulting in exceptional growth.
Music and media company, Laboratory Media Education CIC, took the prize for Business Innovation with their inclusive, creative education which inspires children and adults who have fallen out of the mainstream school system. Judges were particularly impressed with the inventive avenues explored to ignite interest in music, such as creating a way to produce music while playing popular video games.
Lockdown drastically effected the Strictly Theatre Company, who were not only unable to host shows but also couldn't access Government support. The company used the time to rebuild sets and develop new channels with their clients. Their passion to survive and bring arts back to the stage has earned them the award of Business Resilience, sponsored by Mirus. High Grade House were also Highly Commended in this category, for not letting the pandemic stand in their way, developing their skills and qualifications and refurbishing the clinic during lockdown.
The young team behind the local Wymondham Magazine has revitalised the paper which serves their local community, modernising their approach to local journalism and shining a light on positive stories. This team are the well-deserving winners of the Business Supporting the Community award, sponsored by InTouch Systems. Fetch Dog Walking & Training Ltd were also awarded Highly Commended in this category, for making a difference to communities with their wellbeing walks.
The Employer of the Year accolade, sponsored by Jarrold Training, was awarded to Group Lotus. Judges were blown away by the investment Lotus has made in its employees; not only providing a quality workplace with clear opportunities for progression but ensuring all levels of leadership are engaged and available to create a true sense of inclusivity.
Barnwell Print Ltd has taken home the prize of Environmental Innovation, sponsored by the University of East Anglia, for their holistic dedication to sustainability across all aspects of the business and their implementation of the carbon-reduction strategy.
Bergh Apton based wine producer Chet Valley Vineyard took first prize in the Excellence in Agriculture, Food and Drink category, sponsored by Woodforde's Brewery. The vineyard has grown in strength with new innovative ways being introduced to help develop the business. With sustainability at the heart of their production, the team work closely with local schools and businesses to plant trees onsite and support local charities.
In the Excellence in Insurance, Financial and Professional Services, sponsored by fignorwich, Starkings and Watson Estate Agents based in Poringland snatched top spot. Led with a systematic approach, with a hands-on senior management team the estate agents ensure a steadfast commitment to customer care.
Creepy Crawly paradise BugzUK won the New Business Award, sponsored by CNC Building Control. The new enjoyable education experience, based in Lenwade, has been led with a real passion which is evident in how much the company has grown in such a short space of time.
For a completely unique and fantastic Visitor Experience ROARR! Dinosaur Adventure has won this award, sponsored by Adnams. The ever-popular family attraction is constantly evolving to maintain an excellent customer experience which is evident in their strong reviews and high revisit rates.
New to the awards this year is the category, Pub of the Year, sponsored by Pub is the Hub. Broadland's award went to the Recruiting Sergeant in Horstead, which wowed the judges with extremely well-presented trading rooms and the professionalism of the landlords, a testament to their 30 years in business.
South Norfolk's Pub of the Year is The Fox and Hounds in Great Moulton. This rural pub's atmosphere won over the judges who were welcomed in with a warm fire, an attractive décor, and a family friendly ethos including the dog.
Old Catton based party shop Balloons & Bakes has won Broadland Retailer of the Year, sponsored by Big Sky Living, for their imagination and creation not only in their product but their campaign on social media which has proven extremely effective.
And finally, Hethersett's Church Farm Shop has snapped up the prize of South Norfolk's Retailer of the Year. This family run business champions the produce of local suppliers and recycles almost 100% of their waste products with the help of a local chef. Norfolk Football were also awarded Highly Commended in this category for their superb online design facility for local sports teams and environmentally friendly printing service.
We would like to congratulate all of our finalists and winners of 2023.
To find out more about our winners visit www.southnorfolkandbroadland.gov.uk/businessawards